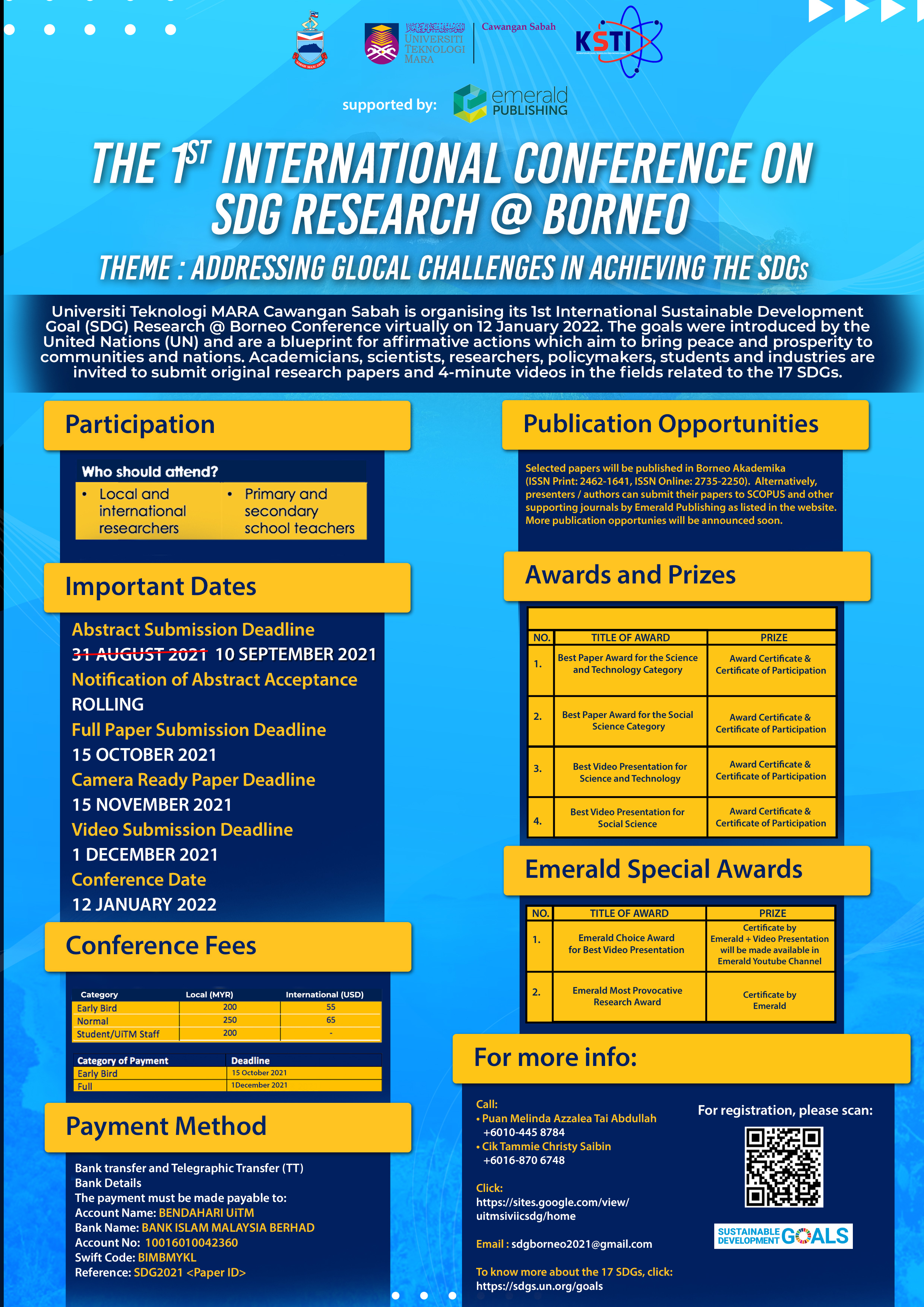 Assalamualaikum w.b.t. dan Salam Sejahtera,
YBhg. Prof. Emeritus Datuk / Dato' / Datin / Prof / Prof. Madya / Dr / Tuan / Puan,
Official Website: https://sites.google.com/view/uitmsiviicsdg/home 
Dear Professor/Dr/Researcher/Colleague/Educator,
GOOD NEWS! WE HAVE EXTENDED THE DEADLINE FOR SUBMISSION OF ABSTRACTS!!
We are delighted to announce that the Department of Research, Industrial Linkages, Community and Alumni (PJIMA), UiTM Cawangan Sabah will be hosting the 1st International Conference on Sustainable Development Goals (SDG) Research @ Borneo. The 1st International Conference on SDG Research @ Borneo with the theme Addressing Glocal Challenges in Achieving the SDGs will be held virtually on 12 January 2022. The goals were introduced by the United Nations (UN) and are a blueprint for affirmative actions which aim to bring peace and prosperity to communities and nations.
The SDG research conference serves as an ideal stage for researchers and scholars to share their research findings, insights and strategies that advance human progress and change our lives, in line with the 17 SDGs. Attendees will be able to benefit from the paper presentation sessions, besides having access to plenty of networking and collaboration opportunities.
Academicians, scientists, researchers, policymakers, students, and industries are cordially invited to submit original research papers and a 5-minute video in the fields related to the 17 SDGs.
To find out more about the 17 SDGs, click here: https://sdgs.un.org/goals  
Abstract submissions are invited from the following tracks:
Science and Technology 

Social Science
The details of the research conference are as follows:
IMPORTANT DATES (NEW UPDATES)      
| | |
| --- | --- |
| Description | Deadline |
| Abstract Submission | 10 September 2021 (NEW) |
| Notification of Abstract Acceptance | Rolling |
| Full Paper Submission | 15 October 2021 |
| Camera Ready Submission (Paper) | 15 November 2021 |
| Video Submission | 1 December 2021 |
PUBLICATION OPPORTUNITIES
Selected papers will be published in Borneo Akademika (ISSN Print: 2462-1641, ISSN Online: 2735-2250). Alternatively, authors can choose to publish with SCOPUS or any other supporting journals published by Emerald Publishing. For more information, please click on this link:
For more information, please click on this link: 
https://sites.google.com/view/uitmsiviicsdg/sdg-conference/publication
AWARDS
In recognition of presenters with excellent paper presentations on various SDG fields, the SDG Research @ Borneo conference presents the following awards:
Best Paper for Science & Technology

Best Paper for Social Science

Best Video Presentation for Science & Technology

Best Video Presentation for Social Science
In addition to that, we are honoured to announce that paper presenters also stand a chance to win two special awards sponsored by Emerald Publishing.
EMERALD SPECIAL AWARDS
Emerald Choice Award for Best Video Presentation

Emerald Most Provocative Research Award
ABSTRACT & VIDEO SUBMISSION
Download the abstract template by visiting our official website menu <SDG CONFERENCE> and click on SUBMISSION. To submit your abstract, click on this link: https://forms.gle/W6XAdCGescDLSniu6
Non-presenter participants can register by clicking on https://forms.gle/VG5CZ7gNDffc45V69
Please submit the link to your video here: 
https://forms.gle/oHa24LhsJAZsAgps6
Thank you.